- New Album Release -
Our Favorite Things (Ravello)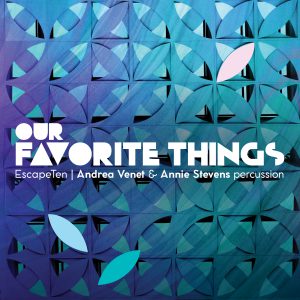 Escape Ten is a percussion duo formed by Annie Stevens and Andrea Venet. Their mission is to generate new creative and diverse music through commissions, compositions, and arrangements, within a variety of genres and timbral contexts in order to bring challenging, lasting works into the standard repertoire.
Recent performances include the WASBE and Ágora Actual Festivals in Spain, a Fromm Foundation commission world premier at The Cummer Museum of Art and Gardens, and 'A Night of Percussion' at the Moss Arts Center. 
Repertoire includes their own innovative arrangements, as well as compositions written exclusively for the duo, including works by Burritt, Holló, Hartenberger, Guinivan, Locke, Trevino, and Ridley.